Priaire Tale
A fascinating, heartbreaking, and ultimately uplifting tale of self-discovery from the beloved actress who earned a permanent place in the hears of millions for her role in Little House on the Prarie when she was just a child. To fans of the hugely successful television series Little House on the Prairie, Melissa Gilbert grew up in a fantasy world with a larger-than-life father, friends and family she could count on, and plenty of animals to play with. Children across the country dreamed of the Ingalls' idyllic life–and so did Melissa. With candor and humor, the cherished actress traces her complicated journey from buck-toothed Laura Halfpint Ingalls to Hollywood starlet, wife, and mother. She partied with the Brat Pack, dated heartthrobs like Rob Lowe and bad boys like Billy Idol, and began a self-destructive pattern of addiction and codependence. She eventually realized that her career on television had earned her popularity, admiration, and love from everyone but herself. Through hard work, tenacity, sobriety, and the blessings of a solid marriage, Melissa has accepted her many different identities and learned to laugh, cry, and forgive in new ways. Women everywhere may have idolized her charming life on Little House on the Prairie, but Melissa's own unexpectedly honest, imperfect, and down-to-earth story is an inspiration.
Dit boek is te koop bij BOL.COM
Daisy and Josephine
Everyone has a favorite person, and Daddy is Daisy's. But when the two of them are on the road for Daddy's work,
Daisy sometimes feels lonely. She is very shy and wishes she had a friend. So Daddy gets Daisy a surprise: a funny-looking puppy named Josephine. They make quite a pair—Daisy with her overbite and Josephine with her underbite. Will Daisy's rambunctious new friend help bring her out of her shell?
This charming story of an unlikely friendship, based on actress and New York Times bestselling author Melissa Gilbert's own childhood and her very own French bull dog named Josephine is one that everyone can relate to.
"I'm so excited to share the story of Daisy and Josephine," Melissa says. "I hope it will inspire children to be brave, to sing, and to always shine brightly!"
Dit boek is te koop bij BOL.COM
My Prairie Cookbook
In My Prairie Cookbook, Melissa Gilbert, star of Little House on the Prairie, offers fans comforting f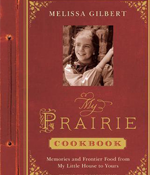 amily recipes and childhood favorites. From prairie breakfasts and picnic lunches to treats inspired by Nellie's restaurant, the 80 simple and delicious dishes-crispy fried chicken, pot roasts, corn bread, apple pie, and more-present Bonnet Heads (die-hard Little House fans) with the chance to eat like the Ingalls family.

Gilbert's personal recollections and memorabilia, including behind-the-scenes stories, anecdotes, and more than 75 treasured scrapbook images, accompany the recipes. With answers to the most-asked questions from fans-on topics including the biggest bloopers, on-set romances, and what Michael Landon was really like-My Prairie Cookbook is a cherished memento for Little House fans and fans of simple prairie cooking alike.
Dit boek is te koop bij BOL.COM